Donate NOW
We Fund WM
Research
Funding Research

Much of the leading edge research on new treatments is undertaken by pharma companies who are usually USA based but trials are worldwide. Dana Farber Centre for Waldenstrom's at Boston under Dr Steven Treon is one of the leading centres for development and testing of these novel treatments, particularly in recent years the use of Ibrutinib in WM.
The IWMF in the USA has led the way in funding large programmes of basic research through their Roadmap programme.
However there are opportunities present themselves for WMUK to help fund research closer to home, and we are pleased to receive applications for funding or co-funding for modest projects where there is clear benefit for patients in the short to medium term. All our funding comes from donations. Our principal project is the roll out of the Rory Morrison Clinical Registry and Biobank, and the web interface is shown below: The majority of the funding for this ambitious project so far has been small donations from patients, carers and friends.

Here are some current examples of other projects we fund with your help:-
DNA Analysis at Leeds University.
WMUK co-fund Jennifer Shrimpton (pictured) for her three year PhD study in vitro development of WM cell lines, with the objective of looking how the WM cell evolves and how the expression of antigens changes on the surface during evolution. This should eventually lead to a better understanding of how drugs such as monoclonal antibodies affect each patient.

DNA Analysis at Bournemouth and University College Hospital, London
WMUK is funding Oragene 'spit tubes' for collection of mouth DNA for storage and analysis. With the greater understanding of how genetic changes (such as CXCR4 and MYD88 ) unique to WM patients affect potential treatments and prognosis, collection of patient genomic DNA is becoming commonplace at many specialist centres, but funding is currently restricted, so WMUK is raising funds for the specialist tubes where spit samples can easily be collected and stored safely for long periods. Each of these kits costs around £18-00. We have currently funded 300 and will do more as donations are received. These samples will be biobanked and assessed along with tumour DNA collected via bone marrow biopsies. Results will be stored in the Rory Morrison Bone Marrow register. WMUK has also funded travel to conferences to present results. Molecular Scientist Dr Zadie Davies at Royal Bournemouth hospital is shown below analysing patient DNA in their lab. On her right is an illustration of how the spit tube is used (courtesy Oragene).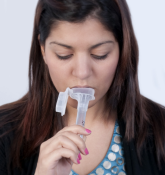 Dr's Shirley D'Sa, UCLH and Helen McCarthy (Bournemouth) show off their Registry poster abstract at IWWM9 Amsterdam, 2016.
We also recently funded 50% of a new -80c freezer for DNA samples at University College Hospital, London, part of our joint Rory Morrison WM Biobank Project with the IWMF.